2022 YEAR CALENDAR PRINTABLE WITH HOLIDAYS
YEAR 2022 CALENDAR PRINTABLE
A calendar helps you manage your work and remember your deadlines or important dates. How can you handle this much without a Calendar, and how can you bear the loss of not getting the most customizable 2022 Year Calendar?
Plan your Year 2022 Calendar with our most customizable series of Printable 2022 Year Calendar with a single click. Here we have a collection of customized Printable 2022 Calendar. You need to click on the Download Button below and grab your favorite template. 
HOW OFTEN DO YOU USE THE CALENDAR?  
The basic need of the calendar is to remain updated about any upcoming events such as festivals, national holidays, months containing how many holidays, and many more things. 
Apart from these, the calendar helps us remember important dates or events like anniversary dates, meetings, birthday dates, special dates, and other things you have mentioned. 
So, with our 2022 Calendar Printable, you can easily mark your days and dates. You can print the Yearly 2022 Calendar in the format of PNG, JPEG, PDF, and excel by just clicking on the link below. 
However, customizable 2022 yearly calendar templates are versatile with other applications such as image viewers and office applications.

2022 YEARLY CALENDAR 
Want to download a one-page yearly calendar for 2022? Then, what are you waiting for? We make your work even more accessible by providing a one-page vertical 2022 annual calendar for free. You can easily download the customizable yearly planner for 2022 by clicking on the link below. 
You can manage your full year with a one-page calendar by not skipping any critical work. It makes your job even more accessible and keeps you focused and updated. I suggest placing one page yearly 2022 calendar in your workplace to get updated. 
A plus point you will get with our one-page 2022 yearly calendar is a separate notes column. Yes, this will help you write the essential things you never want to miss out on. 
Many people keep notes on their phones and set reminders, but how will you get everything in one calendar? It makes your work even more accessible. Isn't it? 
Then, don't forget to grab your customized one-page 2022 Yearly Calendar by clicking on the link below.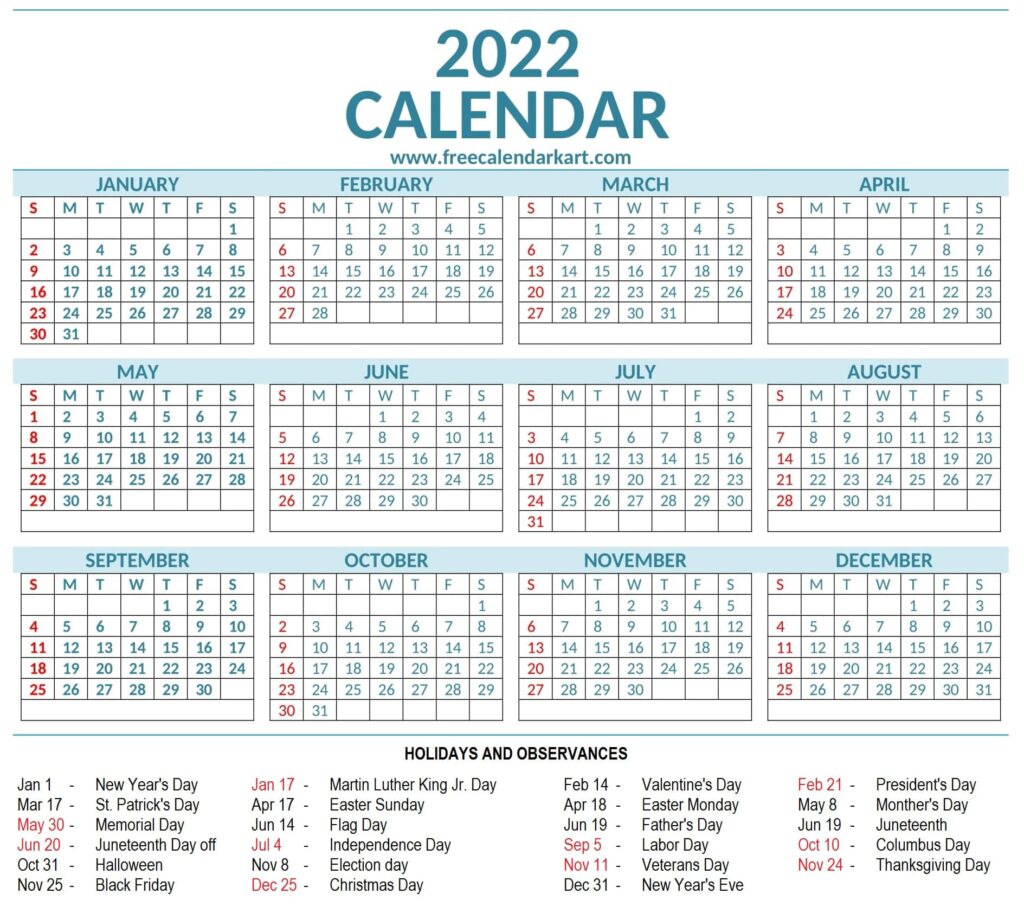 2022 CALENDAR PRINTABLE WITH HOLIDAYS
We provide a series of free templates to record or manage your full-year goals. These templates are easily editable according to your preference and are downloaded in PDF, PNG, and JPEG format. 
You will get calendar templates of the Blank Calendar 2022, such as the daily planner calendar, monthly calendar, yearly calendar, and quarterly calendar for 2022. 
Apart from this, you can also customize the Monthly Calendar 2022 according to holidays such as national holidays, Religious Holidays, Bank Holidays, and many others. 
| | | |
| --- | --- | --- |
| Jan 1 New Year's Day | May 30 Memorial Day | Oct 31 Halloween |
| Jan 17 Martin Luther King Jr. Day | Jun 14 Flag Day | Nov 8 Election Day |
| Feb 14 Valentine's Day | Jun 19 Father's Day | Nov 11 Veterans Day |
| Feb 21 Presidents' Day | Jun 19 Juneteenth | Nov 24 Thanksgiving Day |
| Mar 17 St. Patrick's Day | Jun 20 'Juneteenth' day off | Nov 25 Black Friday |
| Apr 17 Easter Sunday | Jul 4 Independence Day | Dec 25 Christmas Day |
| Apr 18 Easter Monday | Sep 5 Labor Day | Dec 25 Christmas Day day off |
| May 8 Mother's Day | Oct 10 Columbus Day | Dec 31 New year's Eve |
CONCLUSION
Make your 2022 year fantastic by remembering every vital date or event with our 2022 Calendar Printable with Holidays
So, click on the download button and get your customized Calendar 2022 with Holidays for free. 
Mark your important dates, meetings, and events on one page 2022 Year Calendar, and also write notes that you never want to miss out on. 
Have a happy 2022 year ahead.