FREE PRINTABLE FEBRUARY 2022 CALENDAR WITH HOLIDAYS
February 2022 Calendar
February 2022 Calendar – February month starts with Tuesday, a weekday that fills with loads of work. We often forget about important meetings, events, functions, birthdays, and other things in busy schedules. 
Now, it's time to free you from remembering every date or event with the help of our calendars. 
We have customized February 2022 Calendar that will help to remain updated. As you update your calendar, you will get extra time to focus on other essential things. 
You will get customized February 2022 Printable Calendar templates in various formats to note down your to-do list, important dates, events, and notes. They are available in PDF, PNG, JPEG, Microsoft Word, Microsoft Excel, and many more. 
All our templates are compatible with various applications. Those are Open Office Writer, Apple Pages, Google Docs, Google Sheets, LibreOffice, and many more.  
So, grab your February 2022 Blank Calendar absolutely for free by just hitting on the link below. Check out the march template and free download March 2022 Calendar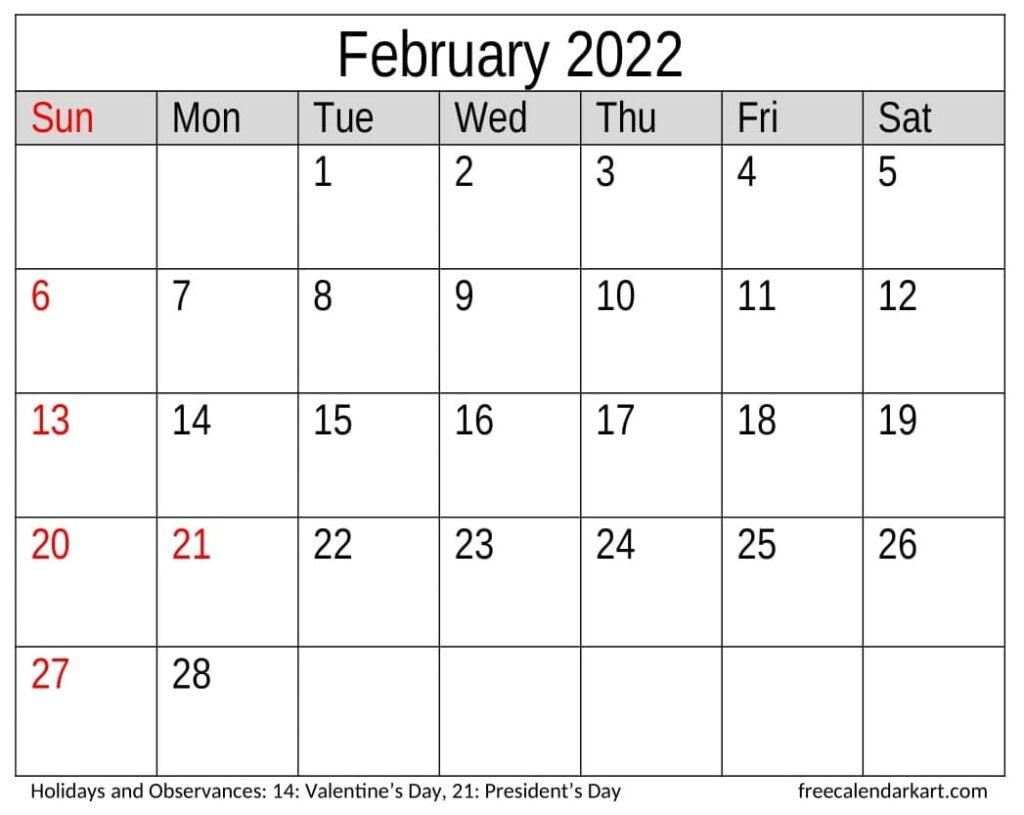 BLANK FEBRUARY 2022 CALENDAR
February is the second month of the year, and it has only 28 days. In comparison, the working days are 20 in February 2022. 
So, plan your days, weeks accordingly. Even prioritize your work a month before getting some more time ahead. Planning a month before will give you more personal time and a proper mindset to work. 
With our Blank February 2022 Calendar, you will get a separate column for notes to write down your essential things. We also have a Blank Calendar for February 2022 where you fill stuff as per your requirements. 
Don't get confused with calendar templates. Choose a calendar template according to your requirements as we have various February 2022 Calendar Templates.
We have office calendars, holiday calendars, to-do list calendars, event calendars, iCalendar, Blank Calendars, one-page monthly calendar, and many more.
You can grab your Printable February 2022 calendar by clicking the link below. Don't forget to check out our customized tool to create your Calendar Wallpaper for desktop. You can even add your picture and make it fully custom, which you will get for free.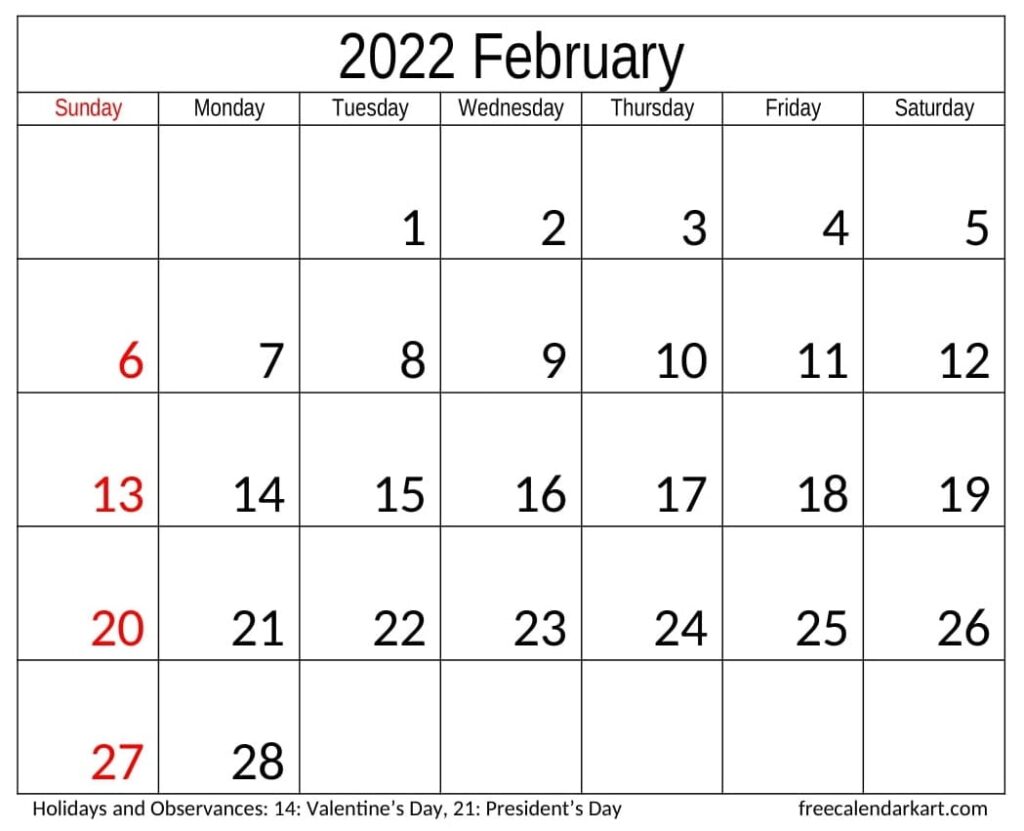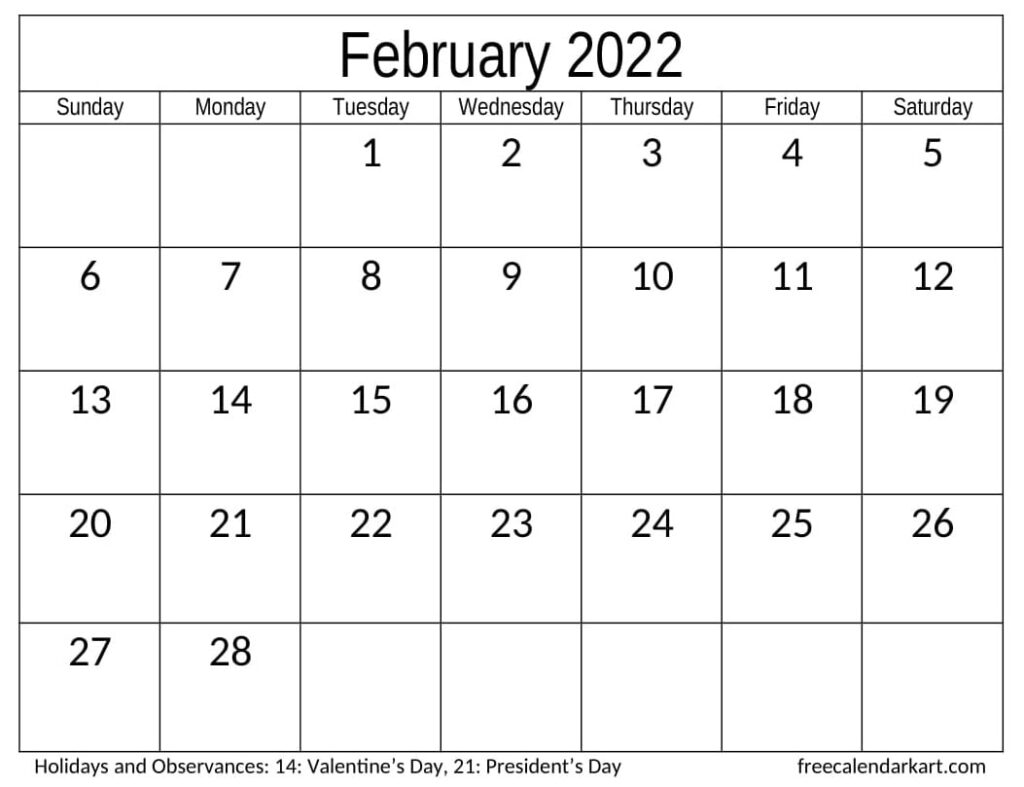 FEBRUARY 2022 CALENDAR WITH HOLIDAYS
February month doesn't have a lot of holidays. But this month is more remembered as lover's month. In February, we give gifts and cards to our loved ones to express our love and compassion towards them. 
Most countries celebrate 14th February as Valentine's Day. So, how about you? 
Planning to celebrate this special day with your loved one, then mark 14th February 2022 in your calendar. It will remind you about your plans, and you will never miss out on any important thing. 
The 21st February 2022 will celebrate as President's Day. On this day, Americans remember their former Presidents to give them honor. Americans' first president, George Washington, will remember since he died. 
You will get all the holidays mentioned in February 2022 Calendar with Holidays. Through this, you will never miss out on any important event and spend quality time with your loved ones. 
So, without any second thought, just hit on the download button to grab your customized February 2022 Calendar Printable for free. 
I wish you good luck ahead.